"Mirror, Mirror, On the Wall" (2 part episode)

Original Air Dates: May 14/21, 1989 - Season 5, Episodes 21/22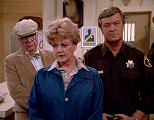 Written by Peter S. Fischer
Directed by Walter Grauman
Recurring Cast
Angela Lansbury (Jessica Fletcher)
William Windom (Dr. Seth Hazlitt)
Ron Masak (Sheriff Mort Metzger)


Guest Stars
Jean Simmons (Eudora McVeigh Shipton)
Ken Howard (Hank Shipton)
Shelley Fabares (Liza Caspar)
David Hedison (Victor Caspar)
Daniel McDonald (Bobby Shipton)
Richard Anderson (Lew Bracken)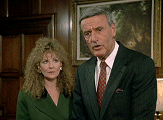 Eudora McVeigh has been the reigning queen of mystery writers for two decades. Now, her publisher Lew Bracken has told her that her recent work is not up to par, inferring it is her sputtering marriage and burn-out. Bracken notes Jessica Fletcher is consistently beating her on bestseller lists and that he is attempting to sign Fletcher to his publishing house. Instead of taking Bracken's suggestion of a rest, the frantic McVeigh decides to drive up to Cabot Cove.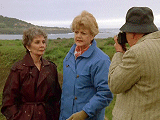 When she arrives unannounced at Jessica's door with seemingly friendly intentions, Jessica welcomes her in for a visit. But her husband and her assistant Liza believe Eudora is desperate enough to do something foolish, and they race to Maine to intercept her.
Soon after husband and stepson arrive, a body is found on the shore. Then a basket of apples that Eudora brought for Jessica are found to be poisoned and Seth Hazlitt's life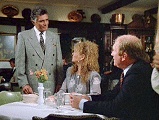 hangs in the balance. Suddenly even Jessica questions Eudora's motives.
David plays Victor Caspar, the petty and vindictive husband of Liza Caspar, who suspects (correctly) that his wife is having an affair with Eudora's husband, Hank Shipton. Suddenly, Cabot Cove is swarming with suspects, failing marriages and reporters who are covering Eudora's announced plan to solve the murder on the beach, even though she is beginning to look like the prime suspect.