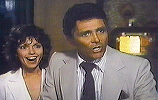 Flying High
High Rollers (1:8)

Guest stars
Ann Sothern (Miss Kirkeby)
David Hedison (Dr. Glen Dodson)
Lew Ayres (Dr. Dodson, DDS)
First aired: 11/24/1978 on CBS
Writer: Robert Van Scoyk




Connie Sellecca (Lisa Benton)
Pat Klous (Marcy Bowers)
Kathryn Witt (Pam Bellagio)
Howard Platt (Captain Doug March)

Pam, Marcy and Lisa are three recent graduates from stewardess school who work for Sun West Airlines based out of Los Angeles. On a flight to Vegas, Pam meets a retired dentist who is estranged from his son. Too proud to accept money from his estranged son, he tells Pam he is heading to Vegas for one last hurrah before poverty forces him to move into an old folks home. He doesn't want his son to know, but Pam is outraged that his son doesn't care. She decides she will confront him and tell him of his father's plight.

So, while Lisa fends off advances from a smitten Vegas Strip comedian (Jack Jones), Marcy goes on a hot streak at a craps table and Captain Doug tries to hook up with a chorus girl, Pam signs up for an earlier flight back to Los Angeles.

After finally getting past the receptionist, she discovers that Glen Dodson is nothing like his father's description. In fact, this psychologist is nearly as neurotic as his patients. She tricks him into flying back to Vegas with her and in the casino, the father and son reconcile under her watchful eye.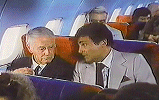 David would work with Pat Klous again in 1985 in the 8th season Love Boat episode "Her Honor the Mayor" (8:18). Pat had replaced Lauren Tewes in the role of the ship's cruise director.