"The Mink Machine"
Season 2, Episode 2
September 25, 1964 on CBS

Starring
Katy Holstrum - Inger Stevens
Glen Morley - William Windom

Guest Stars
Richard Barden - David Hedison
Host of Auto Mate - Dennis James

Series based on the 1947 movie, The Farmer's Daughter
starring Loretta Young and Joseph Cotten

Congressman Morley has been working late on an appropriations committee looking into computers. When he cancels another date with Katy, they have a tiff about machines taking over.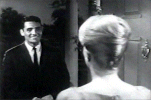 While in the audience at a TV show, Katie's punch card is selected by the "big computer" to match up with her perfect mate. The match, Richard Barden, is an engineer with no interest in anything non-mechanical.
Unaware that Katy is only dating Richard as a requirement of the game show to win a fur coat, the jealous congressman plots to quash the budding romance with a secret weapon - the new high speed RACX46BD24K computer!