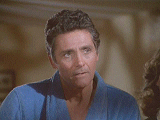 Colt hits the slopes of Aspen, Colorado
Cast
Colt Seavers - Lee Majors
Howie Munson - Douglas Barr
Jody Banks - Heather Thomas

Guest Stars
Congressman Jordan Stevens - David Hedison
Robin Stevens - Anne Lockhart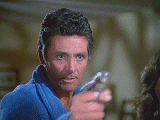 Robin Stevens has had enough of her corrupt, philandering husband. She takes photos of him and his female aide flagrante delicto and tries to run after exchanging gunfire and wounding him in the leg. Stevens sends his hired thugs after his wife who escapes and seeks the help of her form beau, stuntman Colt Seavers.

Seavers is in town for a movie shoot and soon finds himself involved in something more dangerous than a stunt car on a ski trail. The congressman is determined to keep the scandal from erupting. And when the mobsters underwriting his campaigns learn of the problem, they want Robin silenced permanently, before the scandal can disrupt their plans to get Stevens elected governor and loosen restrictions on casinos in the state.

With the mob breathing down his neck, Stevens decides to take matters into his own hands. Now, Colt and his crew must deal with thugs and a gun-happy congressman who likes to commit murder by avalanche!