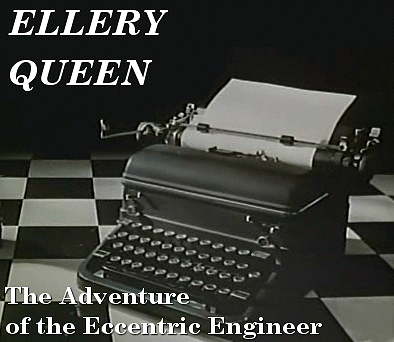 Lamont Franklin (Ed McMahon) is a millionaire inventor who resigns from his own company and spends his days locked in his workshop, playing with toy trains. So when he is found in his locked workshop, shot to death at close range, Ellery Queen (Jim Hutton) is called in to solve a locked room homicide in HO Scale. Ellery also suspects that the inventor was not eccentric, mere feigning senility to work on a new project uninterrupted, a project that was apparently worth killing over.
Ellery Queen
The Adventure of the Eccentric Engineer
Original Air Date: 18 January 1976
(Season 1, Episode 14)
Directed by Peter H. Hunt
Written by Booker Bradshaw and David P. Lewis

Starring
Ellery Queen (Jim Hutton)
Inspector Richard Queen (David Wayne)
Guest stars
Roger Woods (David Hedison)
Claude Sitwell (Arthur Godfrey)
Emily Woods (Ellen Madison)
Dorothy Malone (Carol Franklin)
Lamont Franklin (Ed McMahon)
Lorelei Farnsworth (Ann Reinking)
Doug Charmichael (Bobby Sherman)
Billy Geeter (Dick Van Patten)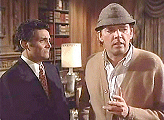 Only three people knew what Lamont Franklin was working on, and each of the three have airtight alibis. Add a few greedy relatives, manipulative wives and mysterious assistants, and there are plenty of suspects. But can even Ellery Queen solve a murder when all the suspects are accounted for, the motive is unknown and the only tracks the murderer has left behind are railroad tracks?