The Townsend Agency is hired by Barbara Stone and her sister, Jane, to track down a conman named John Thornwood. Thornwood has swindled Jane out of $100,000 by promising to marry her and persuading her to invest money in a phony South American oil exploration venture.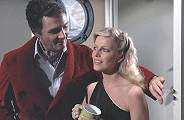 The Angels track Thornwood from San Francisco to an LA apartment complex. Kris poses as his neighbor, who Thornwood discovers is also a con artist when her latest mark, Bosley disguised as a a Texan confronts her in the hall about the $50,000 she has swindled from him. Kris and Thornwood become friends and she suspects he already has another scheme in process.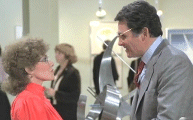 Kelly and Julie follow Thornwood to an art gallery owned by Monica Regis. Thornwood, posing as an art professor has already won the heart of the naive gallery directory. He has already proposed to Monica and Kris and Thornwood convince her to invest $150,000 in a joint scam disguised as an archaeological expedition for lost Egyptian gold.
As Kelly befriends the mousy Monica, Julie discovers that Monica is actually the daughter of mobster Joe Fenell. Kris and Thornwood change the plan to include a fake wedding and then to take the money and run. The problem is that Monica is so deeply in love with Thornwood that the Angels don't want to thwart Thornwood if it means breaking Monica's heart.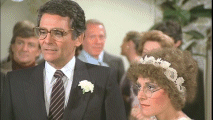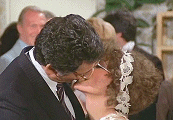 So, unbeknownst to Thornwood, the Angels switch the fake minister for a real one. The Angels calculate that Thornwood, finding himself legally married to a mobster's daughter, will have to mend his ways or face dire, fatal circumstances.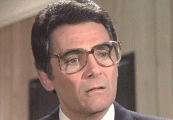 Thornwood, finding that he has been tricked, tries to escape, but after a car chase with Thornwood driving a car dragging tin cans and shoes being pursued by a tow truck dragging a mobster's limo, Thornwood discovers he's been out conned. The money in the bank has been withdrawn by Kris and Thornwood has a involuntary discussion with his new father-in-law and his bodyguards. Fenell warns him to be good to Monica or else. As he is lead back to the reception, he sees the Angels handing the $10,000 back to Jane Stone.