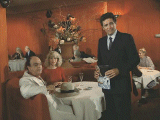 Insufferable food critic J.Hamilton Goodfellow visits the top restaurant in Los Angles, the French bistro Chez Pierre, ownmed by bon vivant Pierre Cerdan. Pierre delivers a oversized cloche that Pierre says Goodfellow had delivered earlier in the day. Goodfellow has no idea what he's talking about. The cover is lifted to reveal a large orange gelatin mold enveloping the severed head of Goodfellow's partner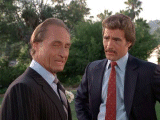 Roger Marsden.

Suspicion immediately falls on Prince Sergei Polansky, a thinly disguised take on Hollywood's legendary restaurateur Prince Michael Romanoff. Polansky was the top restarant until Goodfellow and Marsden panned his menu. He is further implicated when Lt. Novelli finds an old Russian gelatin mold in Polansky's kitchen, still with traces of orange gelatin. The Prince is an old family friend of Matt Houston, who sets out to find the real killer and clear Polansky's name.
Houston narrows down the suspects to Marsden's bitter ex-wife Kate Riley and her brother who has a record, who is the director and producer of Goodfellow's TV food show, Goodfellow's over-protective assistant Terri or Pierre Cerdan himself.
On Houston's ranch, Matt gathers the suspects and announces that the murderer was Pierre! Marsden was taking kickbacks from restaurants in return for good reviews and was reaping 30% of Chez Pierre's profits. As the realization dawns on Cerdan that he has been caught, he escapes. With Matt in hot pursuit, the fugitive's flight leads across the range as Pierre leads Matt on a high speed ATV chase, culminating in a bloody fist fight before Pierre is finally subdued and brought to justice.