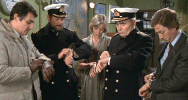 "For Roger Moore, the role is a drastic departure from his James Bond image and he enjoyed it immensely. "I've known Jack Davies a long time. He gave us the proofs of his novel to read and we instantly saw there was a film in it. It was my wife Luisa, who convinced me that I could and should play Ffolkes."
"The setting of the film is very unusual -- the dangerous world of oil rigs in the North Sea. Davies spent two years researching the rough, tough world of North Sea oil men."

"The cast and crew of "ffolkes" were located in Galway, Ireland for five weeks, filming in, around and off Galway Bay. The Bustling harbor town has a population of 35,000 [and they] were amused, amazed, and bemused in turn to see the crew turn the town into a port in Norway. The Docks were given a Norwegian facelift, as it is to Norway that ffolkes must come to rescue hundreds of lives, billions of oil dollars and the honor of the British nation."
Some of the action takes place aboard the supply ship Esther. The actual ship used was the Tor Viking which belongs to the Norwegian Viking Line. "The Captain of the Tor Viking, Captain Bedicksen, was pleasantly surprised by the ease of the stars aboard his ship during the six weeks needed for filming. But not without a price. For two hard weeks, the cast and crew were up every morning with the morning tide, swaying about on the ocean. A record 1000 sea-sickness pills were handed out. There was a nurse on board, who would hand out the pills every four hours and they didn't work, she had another remedy -- a massive injection in the ass." [sic]
Press Information from Universal, an MCA Company dated February 29, 1980.